Norma G. Devine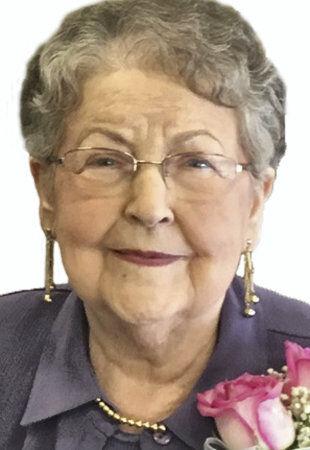 SURPRISE, Ariz. — Norma G. Devine, 90, of Surprise, Ariz., formerly of Grand Island, passed away Wednesday, July 22, 2020.
Graveside services will be at 10:30 a.m. Friday at Farnam Cemetery at Farnam.
Visitation will be from 4 to 6 p.m. Thursday at All Faiths Funeral Home. CDC guidelines will be followed for both the visitation and service. Masks are required.
All Faiths Funeral Home in Grand Island is entrusted with arrangements.
Memorials are suggested to Enchanted Assisted Living, 15924 W. Mauna Loa Lane, Surprise, AZ 85379.
Norma was born Oct. 26, 1929, in Gothenburg, the daughter of Delbert and Elva (Houchin) Slack.
She was raised and received her education in Gothenburg.
On Oct. 2, 1946, she was united in marriage to Wayne Devine at Cozad. They made their home north of Gothenburg on the family farm until 1962. In 1994, the family relocated to Grand Island.
She loved being a housewife and mother and her hands were never idle. There was always an ice cream bucket full of her delicious homemade cookies in the freezer, ready for company and her children's friends. She loved to sew and crochet and often did alterations for people in the community. While living in Gothenburg, she helped out in her mother's nursing home, as activity director and baking pies for the residents.
Norma was a member of Peace Lutheran Church in Grand Island.
Norma is survived by her son and daughter-in-law, Lennie and Barbara (Peckham) Devine of Buckeye, Ariz.; five grandchildren, Amy Devine (James Springsguth), Sara (Nick) Kutovy, Aaron Devine, Derrick (Gina) Devine and Rebecca Penner; stepgrandchildren, Mickey Dennison and Elizabeth Dennison; and great-grandchildren, Jake, Alexis, Tony, Casie and Allysa.
She was preceded in death by her parents; her husband, Wayne, in 2017; a daughter, Diane Penner; two brothers, Richard Slack and Burton Slack; and a sister, Jeanette Slack Burchell.
All Faiths Funeral Home
---
---
Published: 10/2/2022 - http://www.historicfarnam.us/cemetery/obits/index.asp
Hosted and Published by Weldon Hoppe