Rex L. Ealy
---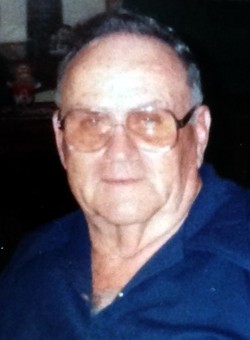 Rex L. Ealy, age 91, of Moorefield, passed away Aug. 6, 2016, at Hilltop Estates in Gothenburg.
Rex was born Dec. 24, 1924, to Harold and Ethel LaBounty Ealy in Hastings. He grew up on the family farm east of Moorefield and graduated from Farnam High School. Rex then joined the U.S. Army in 1944.
Following his discharge in 1946, Rex returned to Moorefield. He then moved to North Platte where he hired on with the Union Pacific Railroad and worked as a Fireman for the next eight years.
On Nov. 14, 1948, Rex was united in marriage to Dona Margaret Crewdson in North Platte.
They later returned to Moorefield to live and work on the family farm. Rex was also a crop duster and owner of Ealy Spraying Service. He flew out of the Curtis Airport and sprayed fields throughout Nebraska, Kansas, Oklahoma, Texas, Louisiana and North Dakota.
After retiring in 1985, Rex and Dona continued to live on the farm and wintered in Port Mansfield, Texas for 24 years until 2008.
Rex was a member of the American Legion and Nebraska Aviation Trades Association. In his younger days, he enjoyed hunting and later liked to fish in the Texas gulf.
Rex was preceded in death by his parents, Harold and Ethel; and two sisters, Jeanette Garner and Pauline Messersmith.
He leaves behind his wife of nearly 68 years, Dona, of Moorefield; two daughters, Maurice (Kevin) Bortner of Moorefield and Ann Ealy of Omaha; two grandchildren, Danielle (TJ) Harding and Heath (Hilary) Bortner; three great-grandchildren, Morgan and Donna Jean Harding and Barrett Bortner; and many nieces, nephews and other family.
Online condolences may be shared at odeanchapel.com. Memorials are suggested to the Arthritis Association.
Services will be at 1:30 p.m. on Thursday, Aug. 11, at Odean Colonial Chapel at C & Sycamore. Cremation was chosen. The memorial book may be signed from 9 a.m. to 6 p.m. on Wednesday at Odean Colonial Chapel, which is in charge of arrangements.
North Platte Telegraph, 7 August 2016
---
---
Published: 8/14/2022 - http://www.historicfarnam.us/cemetery/obits/index.asp
Hosted and Published by Weldon Hoppe