Margaret Genevieve (Beye) Howard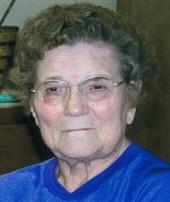 Margaret Howard, 93, quietly slipped from earth to eternity Monday, April 8, 2013, at Southridge Nursing & Rehab Center, where she had lived nearly 14 years.
A Celebration of Life service will be held at Main St. Chapel of the Anderson Funeral Home, 405 W. Main St., at 1:30 p.m., Friday, April 12, 2013. Margaret's family will host a light lunch, social hour, and visitation from 11:30 a.m. until service time, at the funeral home, and friends and family are invited to share that 2-hour opportunity for fellowship and laughter prior to the service. Interment will be at Rose Hill Memorial Gardens, in Marshalltown. Online condolences may be sent to www.andersonfhs.com
Margaret Genevieve Beye was born Aug. 6, 1919, in Farnam, NE, to Herman W. and Daisy (Baker) Beye; she graduated from Farnam High School in 1937 and taught in a normal school near Farnam until her family moved to Iowa and settled in the Laurel area. She worked as a bookkeeper at Scott Upholstery and Awning in Marshalltown until she married Kenneth James Howard of Laurel, on Sept. 14, 1940. They farmed south of Haverhill and then moved near Laurel where they farmed on the Howard Family Farm. In 1952 they moved west of Marshalltown and farmed there until their farm sale in 1993 and Kenneth's death in 1997.
Although Margaret didn't work outside her home after marriage, she was a full-time farm wife and rural volunteer. She was a member of the Albion United Methodist Church since 1952, served as advisor for the MYF (Methodist Youth Fellowship) for several years, and taught both Bible School and Sunday School (besides teaching children's Sunday School, she also led the "Young Married Class" — which she and Kenneth were members of, along with many of their peers, long after any of them could have been described as "young marrieds"). For over 45 years she was an active member of the United Methodist Women, serving in multiple offices over the years. In addition, she was an active member of the Starry Grove Club, a rural service and social group, and also served as a leader of the LaMoille Lucky Lassies, her daughters' 4-H Club, for many years.
At home, Margaret was an accomplished self-taught seamstress; she made most of her daughters' clothes, even did upholstery and drapery, and also enjoyed handiwork like tatting, crocheting and knitting (had knitted literally hundreds of stocking caps and mittens for United Methodist missions over the years). A "farm basics cook," she always prepared meals for neighbors and farm helpers, loved having family get-togethers that started at the table; with Kenneth's help, she always had a big garden and was an expert at canning and food preservation.
Being a farm wife meant that she helped a lot with farm work. She was totally at home driving the tractor in the fields, doing chores, raising chickens, milking cows, or helping with hay-baling or harvesting. She loved having her grandchildren come and stay at the farm, helping them with their 4-H projects or helping teach them to love horses and to love the land and farm life.
Margaret and Kenneth celebrated their 50th wedding anniversary with an open house at the Albion United Methodist Church in 1990, and special guests were their wedding attendants, Kenneth's sister and her husband, Margaret and Harvey Fuller, then of Gilman.
Margaret had lived at Southridge since July, 1999, and she often said that if she had her "druthers," she'd still be on the farm, but since she no longer had her "druthers," she was perfectly content to be at Southridge, where she was comfortable and cared for. She often called the Southridge staff her extended family because of the care they provided 24/7 and because she and her family had formed relationships with so many of the long-term employees. She was a voracious reader and still enjoyed her digital books and being read to, was surrounded by a "gallery" of family photos daily, frequently went shopping or out to eat with her daughters, never met an ice cream cone she didn't like, and as recently as Easter Sunday had hosted a family get-together at Southridge.
Margaret is survived by two daughters and their husbands -- Lorraine and Ed Schultz, Marshalltown, and Kathy and Wayne Rand, Urbandale; four grandchildren -- Angela Schultz-Whelan and her husband, Kevin; Jamie Edwards and her husband, Chris; Joel Rand and his wife, Amber; and Nathan Rand; four great-grandchildren -- Steven and Todd Whelan, Cooper and Drew Edwards; her sister and brother-in-law, Ruth and Gordon McDowell, Cedar Rapids, and their four children -- Linda Kepler, Craig McDowell, Gordon McDowell Jr., and Shelley McDowell; her brother-in-law, George (Iva) Howard, Marshalltown, and her sister-in-law, Ruth (Don) Howard, Hoffman Estates, IL; and 21 Howard nieces and nephews.
She was preceded in death by her parents; her husband; her son, the Rev. Elgin E. Howard, in 1994; and two grandsons, David and Douglas Schultz, in 1983.
In lieu of flowers, it is suggested that memorials be directed to the family. A memorial fund is being established with the goal of supporting enhanced health care education.
---
---
Published: 8/14/2022 - http://www.historicfarnam.us/cemetery/obits/index.asp
Hosted and Published by Weldon Hoppe