John Hazen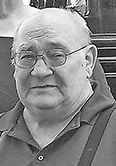 John Roger Hazen Sr, 75, of Farnam, Nebraska, died June 22, 2015 at the VA Hospital in Omaha, NE.
He was born January 14, 1940 in Farnam, NE, son of Andrew and Evelyn (Smallfoot) Hazen.
John grew up in Farnam and graduated from Farnam High with the class of 1958. John served his country in the US Air Force from 1957 -1961 and was stationed in Alamogordo, NM. John married Donna Slack at Banner United Methodist Church on September 27, 1964. They had two children, John Jr, and Karen. John worked in insurance sales and managed the Farnam and Maywood CO-OP's. He was a fireman and EMT. He enjoyed trains.
Surviving are wife, Donna Hazen of Farnam, NE, son John R (Brenda) Hazen, Jr. of Ashland, NE; daughter Karen Hazen (Dave Els) Els of Carrollton, VA; four grandchildren - Madison Taylor, Navy, San Diego, CA; John Hazen III, Army, AK; Tami Hazen, Ashland, NE; Jami Hazen, Ashland, NE; step-granddaughter Sarah (Alan) Dunbar of Virginia Beach, VA; 3 step-great grandchildren Tucker, Tanner, and Paisley Dunbar all of Virginia Beach, VA; brother, Virgil (Jan) Hazen of Arlington, TX, along with extended family and friends.
John was preceded in death by his parents Andy and Evelyn Hazen, nephews Kurt and Keith Hazen.
John's last request was "No Votes for Hillary!"
John's family honored his wishes to be cremated with no services to be held.
Memorials may be given to the Farnam Fire & Rescue or the Central Plains Home Health & Hospice.
Blase-Strauser Memorial Chapel
---
---
Published: 7/1/2022 - http://www.historicfarnam.us/cemetery/obits/index.asp
Hosted and Published by Weldon Hoppe