Cecil G. (Gaedke) Krepcik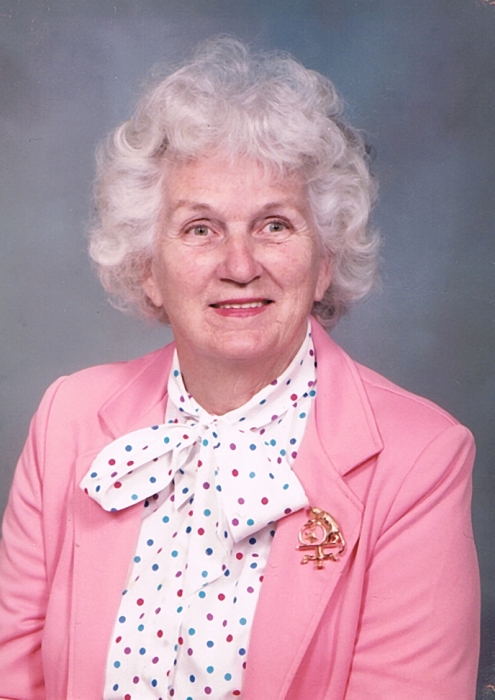 Cecil G. Krepcik, 93, of Farnam died at Golden Living Center in Cozad Saturday, January, 21, 2017.
Cecil was born May 24, 1923 at a family farm home east of Somerset, NE (west of Wellfleet) to William F. and Theodora (Dunton) Gaedke. She was the sixth of nine children. She attended elementary school in the rural school Dist 58 AKA Rose Valley School near the headwater of Medicine Creek. She attended high school at the Nebraska School of Agriculture in Curtis, NE graduating in 1943. She taught for one year in District 48 in Lincoln county. She married Emil E. Krepcik of Farnam on April 8, 1944 in North Platte, Nebraska. They had four children together Emil Jr., Shirley F., Calvin J., and Neil H. Cecil worked at the Stockville post office and then became the postmaster in Curtis in 1984. She retired from the post office in 1991. In her free time she loved gardening, reading, doing crosswords, cats, singing, and playing the piano.
She was confirmed July 6, 1941 at Zion Evangelical Lutheran Church in Wellfleet. She transferred to the American Lutheran Church in Gothenburg in 1947. There she taught Sunday school classes for several years.
Survivors include Emil Jr. (Paula) Krepcik, Calvin (Charlene) Krepcik, Neil (Chantelle) Krepcik, twelve grandchildren; twenty-five great grandchildren and one great-great grandchild.
She is proceeded in death by her husband Emil, daughter Shirley, grandsons Steven and Paul, parents and siblings.
Visitation will be held at Blase-Strauser Memorial Chapel, Gothenburg, Nebraska; Tuesday, January 24, 2017, 1:00 pm - 8:00 pm with the family present from 4:00-6:00 pm.
Funeral services will be held at Trinity Lutheran Church, Wednesday, January 25, 2017 at 2:00 pm with Rev. Jeff Cottingham officiating.
Burial will follow in the Farnam Cemetery, Farnam, Nebraska.
Memorials may be given to the Farnam Volunteer Fire Department, Trinity Lutheran Church or the Gothenburg Public Library.
Blase-Strauser Memorial Chapel, January 22, 2017
---
---
Published: 10/22/2021 - http://www.historicfarnam.us/cemetery/obits/index.asp
Hosted and Published by Weldon Hoppe