Larry D. Taylor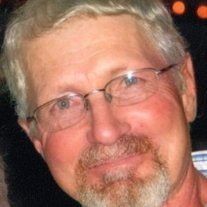 Larry D. Taylor, 62 of Moorefield died Saturday, Jan. 4, 2014 at Great Plains Regional Medical Center in North Platte. Funeral services will be 10:00 AM, Thursday at First United Methodist Church in Kearney. The Rev. Gary Main will officiate. Interment will be in the Kearney Cemetery. Visitation will be 5-7 pm, Wednesday at O'Brien Straatmann Redinger Funeral Home in Kearney. Memorials will be established by the family. On-line condolences may be shared at osrfh.com. O'Brien Straatmann Redinger Funeral Home of Kearney is in charge of arrangements.
Larry Dennis Taylor was born January 24, 1951 in Gothenburg, NE to Marvin and Muriel Davison Taylor and died January 4, 2014 at Great Plains Regional Medical Center after battling cancer. He went to school at District #56 Fairview until Junior High then he went to Farnam where he graduated in 1968. Larry continued his education at Mid Plains Community College where he got his Associate's Degree in Diesel Mechanics in May of 1970. January 23, 1971 he married Connie Fritz and they lived in North Platte and Larry worked for KNOP TV. Larry and Connie had four daughters, Kimberly, Kerri, Kacy and Kristi. In 1972 Larry and Connie moved southeast of Moorefield and in 1977 they moved to the Taylor home place where they lived until his death. Larry farmed and worked in the fertilizer business. In March 2008 Larry started working for Consolidated Telephone. He was a Farnam Jaycee, member of the Arrowhead Golf Course, Farnam Men's Softball Team, Pony Express Ramrodders, and was on the Farnam Rural Fire District Board. He loved to golf, play Texas Hold'em, watch Nebraska Football and Nascar, and dancing.
Survivors include his wife Connie, daughters, Kim of Kearney, Kerri and partner Brian Fuertges of Hays, Kansas and Kristi and husband Carlos Sayles of Alexandria, Virginia; grandchildren Shane Darnall, Erin Darnall, Draake Taylor, Cauy Nelson, Braidyn Nelson of Kearney, Lance Corporal Torrey Contrerez and wife Riley of Jacksonville, North Carolina, Ty Contrerez of Farnam, baby girl Sayles, and baby Fuertges; great grandson Stetson Schommer, baby great-grandchild Contrerez; mother-in-law Jean Fritz, sister Karen Oberg and brothers Ken Taylor and Rod Taylor.
Larry is preceded in death by his daughter Kacy, grandson, Keegan, his parents Marvin and Muriel Taylor, sister Blanche, father-in-law Earl Fritz, brother-in-law, Terry Fritz, nephews Terry Taylor, Chad Oberg, and Jeremy Fritz.
O'Brien Straatmann Redinger Funeral Home, 7 Jan 2014
---
---
Published: 2/7/2023 - http://www.historicfarnam.us/cemetery/obits/index.asp
Hosted and Published by Weldon Hoppe