Kenneth L. Stevens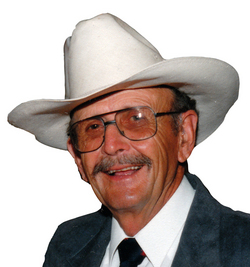 Kenneth L. Stevens, 84, of Farnam, NE passed away at Lincoln, NE on August 19, 2009.
Kenneth Lee Stevens was born September 18, 1924 at Dwight, Nebraska to Everett Lee Stevens and Lillian (Hunt) Stevens.
The family lived in the York area on farms at Dwight and Benedict and then in York with his grandparents while his father was in a military hospital in South Dakota for a year.
Everett and Lillian moved to the ranch on East Deer Creek, north of Ingham, with their three children, Gwen, Ken and Dorthy, in the fall of 1934. Ken attended the Ingham schools, graduating in 1941 as valedictorian. He enrolled at the University of Nebraska-Lincoln on a Regents scholarship until the fall of 1943 when he enlisted in the Army.
He served in World War II with the 36th Infantry Division out of Texas in Austria, France, and Germany where he received the Purple Heart.
Following his honorable discharge in 1945, he returned to the University where he met his future wife, Joan High of Bertrand. They were married May 31, 1949. Following Joan's graduation, they returned to live in the Ingham and Farnam areas the rest of their lives. Three daughters were born to the union, Nancy Joan, Elizabeth Lee and Sara K.
Ken was a rancher and a rural mail carrier, starting with a 25 mile route from Ingham and finishing 31 years later with 150 miles out of Farnam and Eustis.
He avidly pursued water and grass conservation, always looking for ways to be a better custodian of the natural resources in his care.
Joan preceded him in death on December 28, 1990. Ken was a lover of family, good food, nature and adventure. He loved history, reading, and the hills of Lincoln County. He authored a book on the history of Ingham. He married fellow adventurer Betty Thompson Hoppe on April 2, 1994, and together they visited 49 states, Canada and Mexico. His kindness and sense of fun will be missed by all who loved him.
Ken is survived by his wife, Betty, of Farnam; daughters Nancy Gumb and her husband John, of McCook; Betsy Stevens-Spilker and her husband, Kyle, of DeWitt; Sara Stevens-Stehl and her husband, Kevin of Bertrand; grandchildren Erin Schwenka, of Minden, her husband Dallas and great-grandson, Brycen; Julie Gumb and her partner Edgar Alconera of King of Prussia, Pennsylvania; Bill, Jack and Pete Spilker of DeWitt; Dustin Stehl of Omaha, Brandon Stehl of Kearney, and Shelby and Riley Stehl of Bertrand; step-children, Weldon and Paula Hoppe of Colon, Sharla and Brian Rader of Henderson, Wendel and Donna Hoppe of Montgomery, TX; ten step-grandchildren and four step-great-grandchildren; sisters-in-law - Doris High of Grand Island, Ruth (Irvin) Hess of Farnam, Pat (Ron) Benning of Batavia, OH; Sally Thomas of North Platte; brother-in-law - Swede Fastenau of Bertrand and Robert High of Lincoln; and a host of cousins, nieces and nephews.
He was preceded in death by his parents; his wife, Joan; and his sisters Gwen and Dorthy.
Memorial services will be at the Farnam United Methodist Church on Sunday, Aug. 23, at 2 p.m., with Pastor Tess Hufford officiating. Online condolences may be given at www.blasestrauser.com.
North Platte Telegraph, 22 August 2009.
---
---
Published: 9/27/2023 - http://www.historicfarnam.us/cemetery/obits/index.asp
Hosted and Published by Weldon Hoppe