Dean Russell Anderson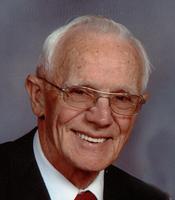 Dean Russell Anderson, 82 years of age, of Holdrege, passed away on Thursday, February 10, 2011 at his home in Holdrege. Dean was born October 7, 1928 at Holdrege, the third of four children born to Harold Edward and Fern (Young) Anderson. He received his primary education from the Ash Grove Dist. #9 School in Phelps County through the 8th grade and then Holdrege High School. He was inducted into the United States Marine Corp on September 26, 1946 until his honorable discharge on September 26, 1949. He then worked for an implement dealer, a service station and then drove a truck hauling livestock.
On June 28, 1953, he was united in marriage to Catherine "Kate" Wiggers and to this union four children were born: Haroldean, Shawn, Roann and Bart.
The family moved to Farnam, Nebraska where they lived nine years then moving to Paxton, Nebraska for one year, where Dean was editor and publisher of The Farnam Press and The Paxton Times. The family returned to Holdrege, where Dean was employed by Becton-Dickinson until his retirement after 25 years of service. After retiring, Dean and Kate enjoyed traveling, spending six months in Arizona and six months in Nebraska until returning to Holdrege full time after ten years.
Several years were given to volunteering at the Nebraska Prairie Museum and the Senior Center in the community of Holdrege and at the hospital in Mesa, Arizona. Many years were spent camping with their family in all of the Nebraska State Parks. Dean was a member of the Trail Dusters and Central Camp & Dancers camping organizations holding local and district offices. One summer, Dean and Kate drove their camper to Alaska to tour the state. Square dancing was a favorite pastime since 1984 and both Dean and Kate served as local and state officers in the organization.
Dean was a 50 year member of the First United Methodist Church of Holdrege. He was a past member of the Farnam Village Board, Farnam School Board, Farnam Volunteer Firefighters and the Lions Club for eight years. He also served on the Holdrege Senior Center advisory board and the Phelps County Community Pantry. In his younger years, he loved to hunt and fish and after he retired, he took up golfing, playing pool, volunteering, serving on church boards and enjoying his grandchildren and great-grandchildren.
Besides his parents, Dean was preceded in death by two brothers: Virgil Anderson in infancy and Elder Anderson and two brothers-in-law.
He leaves to mourn his passing his wife of 57 years, Catherine "Kate" Anderson of Holdrege; four children: Haroldean Lauer and her husband, Larry of Rocklin, California, Shawn Anderson and his special friend, Sherrie Eckhardt of Minden, Nebraska, Roann Gwin and her husband, Dennis of Mt. Vernon, Washington, Bart Anderson of Palmer, Alaska; four grandchildren: Chelsea Schweizer and her husband, Keil, Audra Miller and her husband, Evan, Laura Peterson and her fiancé, Nate, and PFC Ryan Peterson; four great-grandchildren; one sister, Harolynn Olson and her husband, Bob of Kearney, Nebraska; three brothers-in-law; three sisters-in-law; many nieces, nephews, other relatives and friends.
Visitation will be held on Sunday, February 13, 2011 from 1:00 p.m. – 4:00 p.m. with the family greeting from 1:30 p.m. to 3:00 p.m. at the Nelson-Bauer Funeral Home in Holdrege.
Memorial Services will be conducted from the First United Methodist Church in Holdrege, Nebraska on Monday, February 14, 2011 at 11:00 a.m. with Reverend Dale Lambert, officiating. Private family interment will be held prior to the memorial services in the Moses Hill Cemetery in Phelps County, Nebraska with military honors provided by the Martin Horn American Legion Post #66 in conjunction with the U.S. Marine Corp Military Honors Team.
A memorial has been established in his memory and kindly suggested to his many interests: First United Methodist Church of Holdrege, Asera Care, the Phelps County Senior Center, the Nebraska Prairie Museum or the donor's choice.
Expressions of caring and kindness can be sent to the family at www.nelsonbauerfh.com
The Nelson-Bauer Funeral Home in Holdrege is in charge of the arrangements.
Nelson-Bauer Funeral Home, 12 Feb 2011.
---
---
Published: 12/1/2023 - http://www.historicfarnam.us/cemetery/obits/index.asp
Hosted and Published by Weldon Hoppe