Lt.(jg) Clinton Everett Wear, USNR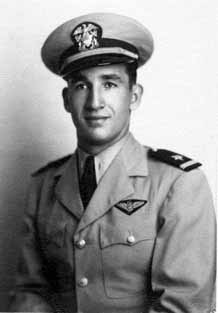 The following is from the American Battle Monuments Commission website:
Lieutenant Junior Grade, U.S. Navy
Service # 0-337772
United States Naval Reserve
Entered the Service from: Nebraska
Died: 10-Aug-45
Lost at Sea during rescue of a fellow pilot
Aircraft: FG-1D Corsair s/n 76732
USS Essex (CV-9) Squadron VBF-83 Air Group CVG-83
Awards: Distinguished Flying Cross with Gold Star, Air Medal with 8 Gold Stars
Tablets of the Missing at Honolulu Memorial


See 2007 Memorial Day Address: Duty, Honor, Country
The following articles appeared in the Farnam Press in regards to Clinton E. Wear's service during World War II.
Clinton Wear Commissioned
Clinton Wear of Farnam was one of a class of navy aviation cadets to graduate from a flying school at Pensacola, Florida, on Tuesday, January 1, and has now been commissioned as ensign in the navy air corps.
He has been transferred to Sanford, Florida, for three months of special training in flying a certain type of fighting plane.
The Farnam Press, 13 Jan 1944
Wedding Kept Secret 17 Months
After having been kept secret for nearly seventeen months, waiting for the groom to get his commission in the navy air corps, the wedding of Miss Patricia Ann Rowland and Ensign Clinton E. Wear is being announced this week by the bride's parents.
The ceremony was performed at St. Francis, Kansas, on August 22, 1942, by Rev. B. W. Thomas.
The bride is a daughter of Mr. and Mrs. John A. Rowland and has spent her entire life in Farnam where she has won for herself a host of friends. She is a graduate of the local high school with the class of '41. The groom, a son of Mr. and Mrs. Roy Wear, has also resided here all his life, up to the time he entered the service of his country. He graduated from the local school with the class of '40. A week ago he completed the regular training for the air corps and was commissioned an Ensign. At present he is taking special training at Sanford, Florida, for a certain type of navy fighting plane.
Belated congratulations are extended to this young couple by the Press and entire community.
The Farnam Press, 20 Jan 1944
Clint Wear Doing OK
Lt (jg) Clinton E. Wear, USNR, 23, Farnam Nebr., carrier-based navy fighter-bomber pilot, shot down three Japanese airplanes during the Okinawa campaign. He flew a Chance-Vought Corsair fighter-bomber from the deck of a large Essex class carrier attached to Vice Admiral Mitscher's famed Task Force 58.
He got his first plane, a Zeke, when a large group of Japs intercepted Task Force 58 airmen after a raid on a Kyushu airfield March 18. He destroyed a Judy dive-bomber while tracking the Jap fleet between Kyushu and Okinawa prior to the fleet action of April 7. He knocked down another Zeke fighter on April 12, when the enemy tried another suicide attack on Okinawa shipping.
His air group shot down 220 Jap planes in the Okinawa campaingn and wrecked 72 more on the ground.
Reported by the U.S. Navy.
The Farnam Press, 26 Jul 1945
Lt. Clinton Wear Killed
The following telegram was received Tuesday evening by Mrs. Clinton Wear (formerly Patricia Rowland) in regard to her husband from whom she had not heard for about six weeks. Clinton had been in the service since soon after the war started and had been overseas about a year. He also leaves a six months old daughter whom he had never been privileged to see.
The telegram: I deeply regret to inform you that your husband, Lt. (jg) Clinton Everett Wear, USNR has been killed in plane crash on August 15, 1945, in the service of his country. Sincerest sympathy is extended to you in your great loss. When further details as to whether body recovered and interred are received you will be informed.
Signed, Vice Admiral Randall Jacobs, chief of navy personnel.
The Farnam Press, 13 Sep 1945
More About Clint Wear
Flying friends of Clinton Wear have told Mrs. Wear and his folks some of the details of Clinton's death.
Clinton was shot down April 18 and spent the night in a rubber raft about 12 miles south of Japan. Flyer Coumbe, who shared a stateroom with Clinton, was in the rescue party who located him. They both flew corsairs or F4U's.
Coumbe was shot down off the northern tip of Houshu Island, Japan, August 9, when they organized to rescue him next day Clinton coaxed his commanding officer to let him go along. They had 250 miles to go and he was carrying a double load of ammunition and fuel.
Coumbe saw Clinton crash but did not know whether he lost control while trying to yank the raft free or if he was hit by anti-aircraft fire as the Jap ships across the harbor were firing at them at the time.
The Farnam Press, 27 Sep 1945
Diary of a fellow pilot in Clinton's air group
Clinton Wear's Record
Mrs. Clinton Wear has received from the navy department a record of her husband's activities and citations in the air service.
He enlisted July 30, 1942, in the U.S. naval reserve and this was changed the following month to aviation cadet. January 4, 1944, he was appointed Ensign and given training at Pensacola and Sanford, Oregon; Norfolk, Virginia, and Atlantic City, N.J. April 1, 1945 he was commissioned as lieutenant. August 10, 1945 he was killed in a plane crash (not enemy action) in the Asiatic Sea.
He was awarded a campaign medal, liberation medal, air medal and nine gold stars in lieu of additional air medals, distinguished flying cross and a gold star in lieu of a second distinguished flying cross.
The Farnam Press, 8 Nov 1945
---
---
Published: 10/2/2022 - http://www.historicfarnam.us/cemetery/obits/index.asp
Hosted and Published by Weldon Hoppe