Minnie Murray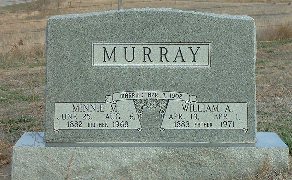 Minnie May Murray, eldest child of John and Sarah Mosley, was born June 25, 1882, in Fillmore County near Shickley, Nebraska. While still a child she came with her parents to a homestead north of Farnam.
On April 3, 1902, she was united in marriage to William A. Murray at Stockville, Nebraska. To this union were born four sons and two daughters. They lived in the Farnam and Gothenburg areas during the entire 66 years of their married life.
The final summons came August 6, 1968, at the Gothenburg Memorial Hospital after a lingering illness. She was 86 years, 1 month and 11 days of age.
She is survived by her husband, William; three sons, Leo of Payette, Idaho; Merle of Goodland, Indiana; Burr of Neosho, Missouri; two daughters, Mary (Mrs. Earl Smallfoot) of Scottsbluff, Nebraska and Edna (Mrs. Lloyd Peterson) of Brady, Nebraska. One son died in infancy. She is also survived by one sister, Vera Easterday of Buhl, Idaho; twelve grandchildren and twenty-five great grandchildren as well as other relatives.
Grandma Murray, as she was called by many, was a loving mother and deeply devoted to her granchldren. One grandchild, Clara May Blodgett of Marsing, Idaho, made her home with her grandparents until her marriage.
Funeral services were held Thursday, August 8, 1968, at 2:00 p.m. in the McVay Chapel with Rev. Arthur Olson officiating. Her nieces, Mrs. Deloras Nickerson and Mrs. Audrey Kotschwar sang "Sweet Hour of Prayer "and "Beyond the Sunset" accompanied by Mrs. Evelyn Davis. Pallbearers were George Murray, Emil Krepcik, Fred Meredith, Lawrence Baker, Elgie Thompson, and Harold Schultz. Final resting place was in the Farnam Cemetery.
---
---
Published: 8/14/2022 - http://www.historicfarnam.us/cemetery/obits/index.asp
Hosted and Published by Weldon Hoppe