Elvin D. Gardner
---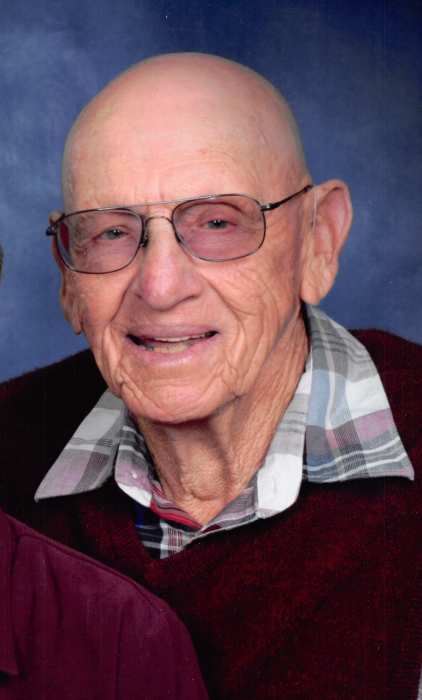 Elvin D. Gardner, 88, of Farnam passed away August 9, 2016 at his home in Farnam.
Elvin was born May 28, 1928 in Farnam to Clyde and Jennie Johnson Gardner. He spent his childhood on the family farm south of Farnam. He graduated from Farnam High School in 1945. He worked as a mechanic at the Ford Garage, Deavers in Gothenburg and at Hi-Line Implement in Eustis soon after graduation.
On July 10, 1955, he was united in marriage to Marilyn Peirsol Gardner. They moved to a farm south of Farnam where Elvin farmed and had dairy cows and a mechanic shop. He also was a contract mail carrier for several years.
In 1960 they were blessed with a little girl, Launa Kay, who became their daughter. In 1961 a little boy, Tracy Lee, also joined their family.
Elvin retired in 1990 and they moved to Farnam in 1993. The first year after retirement, they worked in Yellowstone Park. Elvin got back to being a mechanic and liked doing that. They enjoyed traveling the country and later spending winters in the south. Elvin was a Nascar fan and also liked photography. He took many wedding and nature pictures.
He is survived by his wife Marilyn of 6l years, a daughter Launa Hopkins (Bradley) of Almena, KS and a son Tracy Gardner (Teresa) of Curtis, five grandchildren; Nathan (Staci) Hopkins and their children Rhiley Fiene, Wyatt Fiene, Cort Fiene and CJ Fiene; Ryan (Brittany) Hopkins and their child Owen Hopkins; Amanda Hopkins; Miranda Johnson (and family); Jordan Gardner (girlfriend Sierra).
He was preceded in death by his parents, Clyde and Jennie and his sister Eula Weathers.
Visitation will be held at Blase-Strauser Memorial Chapel, Gothenburg, Nebraska; Sunday, August 14, 2016, 2:00 pm – 6:00 pm. with the family present from 2–4.
Funeral Services will be held at Farnam United Methodist Church, Monday, August 15, 2016 at 2:00 pm with Pastor Neil Kloppenborg officiating.
Burial will follow in the Farnam Cemetery, Farnam, NE.
Memorials may be directed to the Farnam United Methodist Church, 303 Caribou Street, Farnam, NE 69029; Farnam Senior Center, 214 Main Street, Farnam, NE 69029; or the Nebraska Children's Home Society, 4939 So 118th Street, Omaha, NE 68137.
Blase–Strauser Memorial Chapel
---
---
Published: 4/21/2021 - http://www.historicfarnam.us/cemetery/obits/index.asp
Hosted and Published by Weldon Hoppe