Mildred (McMichael) Adkisson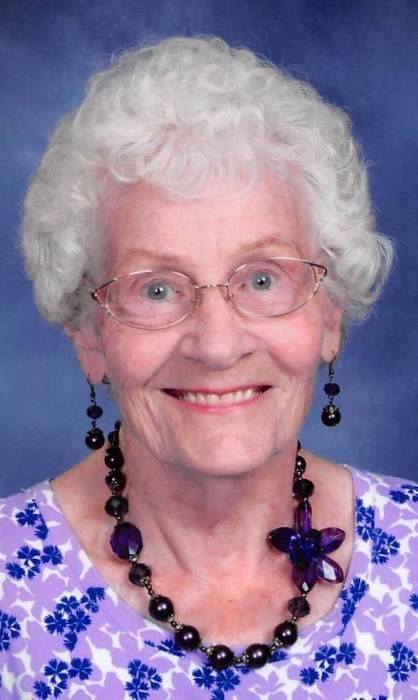 Mildred "Millie" Adkisson, 91, of Cozad, formerly of Farnam, Nebraska, died October 21, 2015 at the Cozad Community Hospital in Cozad, NE.
She was born July 28, 1924 at Orafino, NE, daughter of Richard Clifford and Julia Anna (McCarl) McMichael.
Millie grew up south of Farnam on the McMichael homestead. She married Harold M. Adkisson on October 22, 1941 at Oberlin, KS; to this union five children were born — Kenneth Wayne, Lola Maxine, Ronald Dean, Douglas Eugene and Scottie Lee. Millie was a busy mother and homemaker. The family lived at Farnam and later she moved to the Golden Living Center in Cozad.
Survivors include four sons, Kenny (Ginger), Ron (Shirley), Doug (Ellen) and Scott (Marcia) Adkisson; 26 grandchildren, 32 great grandchildren, eight great great grandchildren; two sisters, Julia Schneider, Ruth Fisher; brother, Clifford "Junior" (Betty) McMichael; brother-in-law Zane Craig and sister-in-law Ora McMichael along with many extended family and friends.
Millie was preceded by her husband, Harold M. Adkisson; daughter Lola Maxine, father, Richard Clifford McMichael; mother, Julia Anna McMichael; three brothers, Richard McMichael, Alvin McMichael, Herbert McMichael; five sisters, Elma Calhoon, Elsie Phillips, Mary Beck, Velma Phillips, Vera Ethel Craig; two great great grandsons twins, Jagger and Marek Killion.
Visitation will be held at Blase-Strauser Memorial Chapel, Gothenburg, Nebraska; Friday, October 23, 2015, 1:00 pm - 8:00 pm. with the family present from 5:00 to 7:00 pm.
Funeral Services will be held at Farnam United Methodist Church, 303 Caribou Street, Farnam, NE on Saturday, October 24, 2015 at 2:00 pm with Pastor Neil Kloppenborg officiating.
Burial will follow in the Farnam Cemetery, Farnam, Nebraska.
Memorials may be given to the to the Adkisson Family to be determined later.
Blase-Strauser Memorial Chapel
---
---
Published: 11/26/2022 - http://www.historicfarnam.us/cemetery/obits/index.asp
Hosted and Published by Weldon Hoppe