Memorial Day Address



Farnam Cemetery
May 26, 2008
by Weldon Hoppe

Remembering Gene Widick

Nearly 9 million men and women served our country in the military during the Vietnam War. Over 150,000 were wounded and more than 47,000 were killed in action. It's easy to talk about the numbers and not think about the individuals those numbers represent. But, I'm sure everyone here knows someone that is included in those numbers and that's why we're here, to remember them. We all know that behind those big numbers are unique stories of family and friends, homecomings and heartaches, fear and fearlessness, battle wounds and emotional wounds, and on and on. In other words, each individual is more than just a number or a name on a stone. Each one is someone to remember at times like this.

In this cemetery, we are honored to have at rest five of those individuals who served our country during the Vietnam War: James Best, Bill Darnall, Danny Donner, Terry Fritz and Gene Widick. Behind each name is a unique story of their life and the effect their military service had on them and their families and friends. Today, I would like to recall for you one of those stories.

Last year, as this service concluded and I looked around, I noticed Bill Widick sitting in a pickup over to the east. When I saw him, I could not help but think of his son, Gene, and the feelings Bill must have felt on this day each year. I imagine he had both a sense of grief in the loss of his son and at the same time a sense of pride in Gene's service to his country.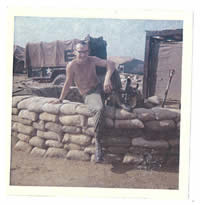 It has been forty years since Gene was killed in Long An province in South Vietnam on September 15, 1967. Gene gave the ultimate sacrifice for his country and his family shared in that sacrifice. With his death, his family suffered the grief of losing a second son and brother, just a year after their youngest died in an accident.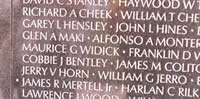 If you visit the Vietnam Veterans Memorial in Washington, D.C., you will find Gene's name on the wall on Panel 26E, Line 77. To the common visitor, his is just one of many among the 58,256 names on the wall. However, to his family and friends, his name stands out from all the rest and brings back memories of growing up, of high school and of serving alongside him.
Gene was born in Gothenburg on September 5, 1946 to Bill and Mildred Widick, the fourth of five sons. The family lived on a farm ten miles southwest of here. Gene attended school in Farnam and graduated in 1964.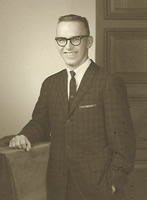 According to a classmate, he was liked by everyone, with the exception perhaps of a teacher or two. She says "he had a gleam in his eye that exuded both mischief and charm." Charm that both attracted all the girls and got him out of trouble a time or two with the principal.
He was crowned Homecoming King his senior year. During the Homecoming football game, as quarterback of the team, he scored the only touchdown in a 6-0 win over Eustis. He was also a standout basketball player, averaging 27 points a game during the Hi-Line Conference Tournament, helping lead the team to a 2nd place finish.
After high school, he was farming with his family when he was drafted into the Army in 1965. He received his training at Ft. Riley, Kansas and began a tour of duty in Vietnam on December 1, 1966. Not long before he went overseas, he made a visit home and also stopped to see his classmates and friends. To them, he was still the cool guy they knew in school and looked ever so good in uniform and was proud to be representing his country.
One friend looks back now and remembers him as someone who was warm, caring, admired by all who met him and who knew no strangers. Among all the people she has met in the last forty years, Gene is one of those whom she still admires the most. In the letters he wrote to her while in the service, he was excited about being a medic.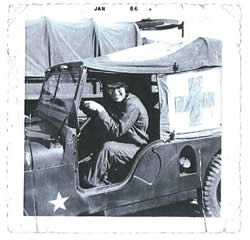 Gene was assigned to the 2nd Battalion (Mechanized), 47th Infantry Regiment, 9th Infantry Division, otherwise known as the Panthers. He was one of 196 men from the 2nd Battalion who were killed in action. One of the officers from this unit remembers Gene as a likeable kid who always had a joke or something to make you laugh. According to the officer, "Gene went over with the advance party in Dec of '66 as the rest of the 2/47 came over on the USS Pope and arrived in early Jan '67. That says a lot about Gene as only the best came over with the advance party."
Medics carried a heavy burden on their backs, and that's not just their gear. Whenever they heard "Medic" called out, they ran to the soldier's aid, usually while the bullets and grenades were still flying. They were often the last person to hold a soldier and comfort him as he died. They were the ones who struggled with guilt or remorse for not being able to keep the soldier alive. In the letters Gene wrote home to his parents he painted a picture of his duty in Vietnam as just like his happy-go-lucky view of life: it was carefree, like a real picnic. In letters to his brothers, though, he told them what it was really like to be in the thick of it but told them "don't tell Mom and Dad."
Back home, on a mid-September day, a car drove onto the Widick farmstead while Gene's parents were away watching another son play football at Kearney State College.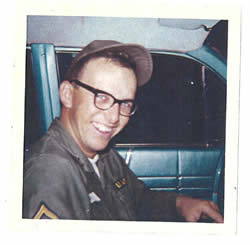 Some neighbors drove by and saw the car sitting in the yard and from the markings could tell it was from the Army. Their hearts sank as they wondered if the car carried the news that no parent of a soldier ever wants to hear -- sadly, it did. The neighbors look back today and remember Gene as someone who always had a smile on his face and a whistle that anyone would recognize as Gene´s.
Gene was with a patrol unit, when the vehicle he was riding on struck a land mine. He and several other soldiers were evacuated by helicopter but Gene did not survive. His fellow soldiers missed his outgoing personality and remember him as a good medic who took care of his guys.
In closing, I would like to share a portion of a letter I sent several years ago to Gene's father that sums up just why we´re here today:
This past Memorial Day I found myself thinking of you and thought I would share with you some of my thoughts. As I sat in my wife´s home church in Missouri last Sunday and the minister read the names of the servicemen from that church who had died, I thought of your son, Gene. I think of him every Memorial Day, and not just then but other times too, when I think of the sacrifice he made for my family and me.

I was only nine years old when Gene died but I remember attending his funeral in the old gym in Farnam and have always thought of him as a hero. Even though some have considered Vietnam a mistake, that does not minimize his sacrifice. In fact, to me it stands out even more, because in the midst of protests, he was willing to do his part, out of duty and honor toward our country.

More than anything, I wanted you to know that Gene is not forgotten, not by me and not by many others from the Farnam community who remember the life he gave for our country. Gene´s life seemed cut short, but to God and in the perspective of eternity, we are all here on earth only a very short time. His contribution to the world was every bit as full as a man living to an old age.
We cannot give back the life that Gene lost. We cannot remove the grief that his family has experienced. However, we can keep fresh the memory of the life that he lived and the life that he gave for his country. May the memory of Gene Widick never fade away nor that of all those who have sacrificed for our country and are now at rest here.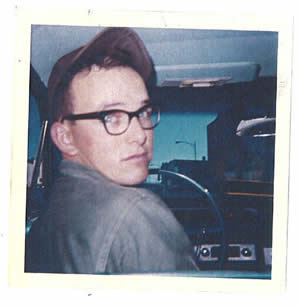 Sergeant Maurice Gene Widick
Headquarters & Headquarters Company
2nd Battalion (Mechanized)
47th Infantry Regiment
9th Infantry Division
9/5/1946 - 9/15/1967

---
---
Published: 9/21/2021 - http://www.historicfarnam.us/cemetery/index.asp
Hosted and Published by Weldon Hoppe