Ingham Has Unique Mining Industry
---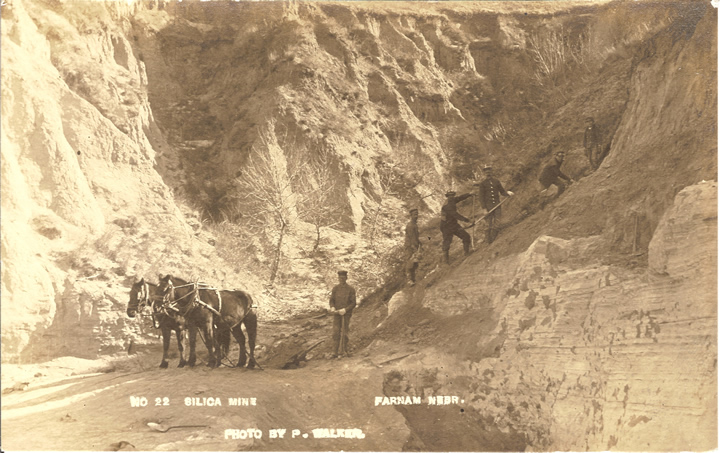 LaRue-Axtell Company Silica Mine, Ingham, Nebraska
One day the fore part of the week the Methodist preacher came along and wanted us to take a ride with him out through the hills in Lincoln county so we finally consented to go. While on our drive we visited the pumice plant of the LaRue–Axtell company of Ingham, owned and controlled by the Axtell brothers. The mine and plant is located a short distance southwest of Ingham. It is rather a unique affair and is the only plant of this kind in the state of Nebraska and there are very few in the United States.
The pumice is a volcanic deposit and is a mystery to geologists as to the reason for this concentration of material as it is not found in any quantity only in a space of about a square mile.
This pumice has a number of different uses. Soap and cleansers are made from are made from it as it has excellent scouring qualitites. There are a number of other uses that it is put into such as dressing down paints and varnishes and finishing fine quality hard rubber goods.
The Axtell brothers do their own mining, drying and refining at their plant which turns out the finished product at the rate of about two car loads a week. A great deal of dirt had to be removed in places to secure the pumice which is hauled to the mill and is there run through a large drum which dries it and then it passes through a number of screens which separate it into different grades. Then it is put into barrels and paper bags and is ready for shipment. The Burlington railroad has built a spur out to the factory to convey the finished product to the outside world. But very little of this product is sold in Nebraska but is shipped chiefly to eastern firms and Canada and some is going to the western coast recently as they are just opening up the market in that direction.