Turned the Town Upside Down
---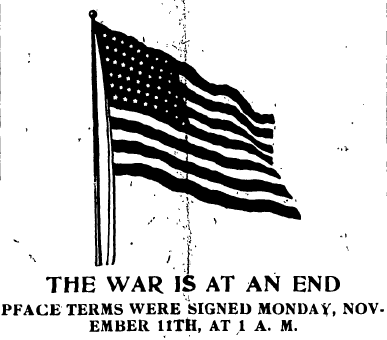 Word was received here about six o'clock Monday morning informing us that Germany had at last signed the peace treaty, and the news spread like wild fire. Bells were ringing everywhere; shots were fired and the old town began to stir in preparation for a very busy day. From the time the first bell sounded there were things doing every few mintues.
About 10 o'clock the school children paraded the streets waving flags and cheering continually. The anvils and powder were immediately put to use and boomed almost incessantly until late that night. Business houses were decorated with the stars and stripes, and a union thanksgiving prayer service was held in the Congregational church at noon.
After dark, huge piles of boxes, barrels, etc. (principally etc.) were set fire to, while the band played patriotic airs. Auto trucks were kept busy hauling material for the bon-fire, which not only furnished amusement for the public, but light for the band boys to see by.