Virgil "Pops" Keith Hazen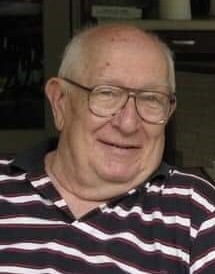 Mr. Virgil "Pops" Keith Hazen died on October 8, 2018. He was son of the late Andrew Farris Hazen and Evelyn Minnette Smallfoot Hazen and was born on December 9, 1934 in Farnam, Nebraska. He attended school in Farnam and was a graduate of Farnam Public School in 1952, joining the U. S. Navy in 1953. Mr. Hazen retired from the U. S. Navy NAS, New Orleans in 1980. He married his Love on December 16, 1964 and together they raised 8 children.
Virgil is survived by his wife of 53 years, Janice Gronewold Hazen, children Craig (Korin), Brad (Tonya), Scott (Debbie), Sheri (Teddy), Vicki (Bill), Cyndi (David), 29 grandchildren, 14 great grandchildren and his beloved pal, his dog Ginger. He is preceded in death by his parents, sons Kurt and Keith, brother John, son-in-law Kenny, and grandson T.J.
During his lifetime he was very involved with the Cub Scouts and Boy Scouts of America, which he enjoyed very much. He was also an avid Military memorabilia collector from the age of 8 until his death. He loved working with his hands and was a wonderful woodworker and well as a talented cross stitcher.
He enjoyed the simple things in life, visiting with family, and relaxed by watching sports. He was a lifetime Nebraska Cornhusker fan and never missed an opportunity to watch a Dallas Cowboy or Texas Ranger game. His family paid tribute to him "He was full of life, fun and always good for a great joke. He was a good man and could always make you smile. Family is not defined by blood." He will be greatly missed and forever cherished in our memories.
Family and friends are invited to Moore Funeral Home, 1219 N. Davis Dr. in Arlington, Texas, from 6 PM – 8 PM, on Monday, October 15, for visitation. A graveside Military service and burial will be held on Tuesday, October 16, at 12:30 PM at Dallas-Fort Worth National Cemetery, 2000 Mountain Creek Parkway, Dallas.
Dignity Memorial, October 10, 2018
---
---
Published: 2/27/2020 - http://www.historicfarnam.us/cemetery/obits/index.asp
Hosted and Published by Weldon Hoppe