Landy R. Earhart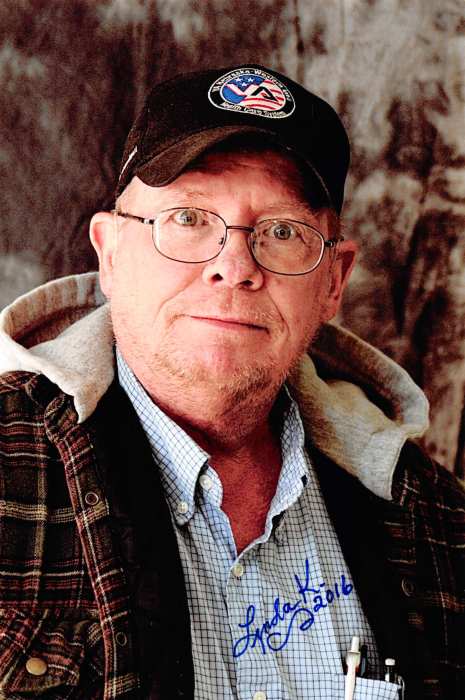 Landy Roland Earhart, age 64 years, 9 months, went to be with his Deliverer and Savior on November 18th, 2016 at the Good Samaritan Hospital in Kearney after a long hard fight with lung cancer. His family sang songs and read scriptures as he went to meet Christ. Abigail, wrote and sang a beautiful song to her Grandpa.
Landy was born February 5th, 1952, in Eustis, NE to Neil and Carrie Earhart. He was raised in Moorefield, Nebraska. He attended grade school at Dist. # 38, Moorefield and graduated from Farnam High School in 1970. He married Susan Wolf (Anderson). They had a son, Samuel David. They divorced.
He was in the Army 1971-72. After being honorably discharged, he returned to Moorefield.
He married Cherrie Houser on Feb. 27, 1981. She had a Daughter April Dawn, he raised and loved as his own. Landy and Cherrie had a son, Matthew John, July 3, 1983. Landy and Cherrie divorced and have remained friends. He has had various job over the years, but trucking was his love. He always, from and early age, wanted to preach the Word of God. He finally achieved this dream and received his certificate from, Yeshiua Tora Institute in Colorado. Landy had a 'KNACK' for fixing things, He invented what needed many times. Landy also had a very loving and generous soul. He was always willing to help anyone in need, sometimes to an excess. Landy will be missed by many for his quick witted statements. He also will be missed by the many people that he worked for and with. He will be missed by his sister who took care of him the last 6 months of his life. They really got to know each other.
He acquired a patch of ground in Moorefield. He bought a camper and lived there until, in July of 2016. His camper was pulled to North Platte so that he could be closer to the Dr's and his sister, Linda, who took care of all of his affairs to the end.
Landy was diagnosed with Lung Cancer in 2015. He fought a brave fight knowing his life was in God's loving hands. He was not afraid to die, as he knew--"To live is Christ and to die is gain."
He leaves behind his precious dog, Ruby. She went to live with April and her big family. She will adjust well with all the love they have to offer.
He is survived by his daughter April Geadke (Jerod); son Matt; sisters Linda Earhart/Knepp (Burt), Kathy Moore, (James), and brothers, Rick, Roger,(Jan), Don. His former wife, Cherrie, and his, son Samuel, his dearly loved 6 Grandchildren (April's Children) Caleb, Abigail, Isaac, Levi, Hanna and Ezekiel; and many other relatives and friends.
He was proceeded in death by parents, Neil, and Carrie Earhart, and a brother Tony.
Blase-Strauser Memorial Chapel, 21 November 2016
---
---
Published: 7/12/2020 - http://www.historicfarnam.us/cemetery/obits/index.asp
Hosted and Published by Weldon Hoppe