Carrie (Fenton) Earhart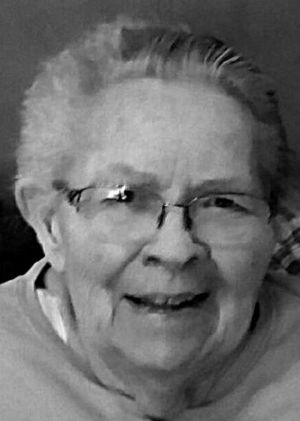 Carrie Earhart, 92, of Moorefield, died May 28, 2015, at her daughter's home in Gibbon.
Carrie May Earhart was born on March 10, 1923, in Moorefield to Harry and Rena (Reckard) Fenton. She received her education from District No. 38 and Moorefield High School, graduating in 1941.
On Aug. 10, 1943, Carrie was united in marriage to Leonard Earhart in Oberlin, Kansas. The couple made their home in Moorefield, where Carrie retired from Medicine Valley High School and Moorefield School as a custodian after 31 years of service.
She was a talented seamstress and was well known for her abilities in Frontier County and surrounding areas. She enjoyed gardening, flowers and reading, especially the Bible. Carrie loved traveling with her husband, especially on his motorcycle. She cherished her time with her family and friends. Carrie was a member of the Faith Fellowship Vineyard in Curtis.
Carrie was preceded in death by her parents; husband; sister, Dora Barada; brother, Bob Fenton; and a great-granddaughter, Elaina Goosey.
Survivors include her children, Linda (Burt) Knepp, of North Platte, Rick Earhart, of Moorefield, Roger (Jan) Earhart, of Eustis, Landy Earhart, of Moorefield, Don Earhart, of Lexington, Tony Earhart (missing since 1993) and Kathy (James) Moore, of Gibbon; many, many grandchildren, great-grandchildren and great-great-grandchildren; brother, Gene Fenton, of Mesa, Arizona; sisters, Ellen Ridgeway, of Salem, Oregon, Ruth Parker, of Mesa, Arizona, and Betty Cover, of North Platte; sister-in-law, Iona Lenz, of Moorefield; and many nieces and nephews.
Memorials are suggested to the Frontier County ambulance and EMTs and Frontier Fire Department. Online condolences may be shared at osrfh.com.
Services will be at 11 a.m. Saturday, June 6, at the Curtis Community Center. O'Brien Straatmann Redinger Funeral Home, Kearney, is in charge of arrangements.
North Platte Telegraph, 2 June 2015
---
---
Published: 7/12/2020 - http://www.historicfarnam.us/cemetery/obits/index.asp
Hosted and Published by Weldon Hoppe