William Arthur Murray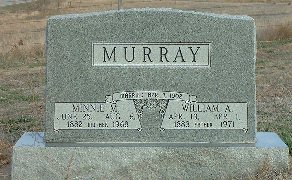 William A. Murray passed away on Thursday evening at his home in Gothenburg. Born April 13, 1883 in Lincoln county, Kansas, he was 87.
Survivors include three sons, Leo Murray of Payette, Idaho; Merle Murray of Goodland, Indiana, and Burr Murray of Neosho, Mo.; two daughters May, Mrs. Earl Smallfoot of Scottsbluff, and Edna, Mrs. Lloyd Peterson of Brady.
Also twelve grandchildren, twenty-seven great grandchildren, and one great, great granddaughter.
William Arthur Murray, the son of Jeremiah and Ellen (Neighbarger) Murray, was born April 13, 1883 in Lincoln county, Kansas.
While still a child he came with his parents to a homestead north of Farnam, Nebraska.
On April 3, 1902, he was united in marriage to Minnie May Mosley at Stockville, Nebraska. To this union four sons and two daughters were born. They lived in the Farnam and Gothenburg area all of their married life. Mrs. Murray passed away in 1968. Grandpa Murray, as he was called by many, was a loving father and deeply devoted to his grandchildren. One grandchild, Clara May (Murray) Blodgett, of Marsing, Idaho, made her home with her grandparents until her marriage.
Services were held Saturday afternoon in the McVay Chapelconducted by Rev. Hugh H. Houchin of the First United Methodist Church. Mrs. Deloras Nickerson and Mrs. Audrey Kotschwar sang, accompanied by Mrs. Doris Smith. Pallbearers were Fred Meredith, Emil Krepcik, F. F. Rosedahl, Wayne Devine, Glen Buss and Harold Schultz. Interment was in the Farnam cemetery.
The Gothenburg Times, Gothenburg, Nebraska; Thursday, April 8, 1971. Vol. 63, No. 41, page 1, col. 3.
---
---
Published: 6/2/2020 - http://www.historicfarnam.us/cemetery/obits/index.asp
Hosted and Published by Weldon Hoppe