Lucy May (Walker) Sage Fletcher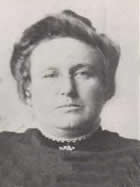 Lucy May Walker was born December 8, 1867 at Boody, Macon County, Illinois, and passed away at Bayard, Neb., April 12, 1923 at the age 55 years, 4 months, and 4 days.
She was united in marriage on Nov. 17, 1886 to William E. Sage, who departed this life on October 18, 1893 at Galleton, Missouri. To this union was born three daughters, who survive their mother; Mrs. Alpha J. Brinkman of Bayard, Mrs. Iva B. Whetstone of Farnam, Mrs. Jessie E. Hampson of Graettinger, Iowa.
On April 29, 1897, she was united in marriage to John W. Fletcher of Farnam, Nebraska, who departed this life on July 31, 1908. To this union were born two children, Ruth Alice, who died at the age of 12 and Wayne W. Fletcher with whom she made her home at the time of her death.
Besides her four children who mourn her, she leaves ten grandchildren, one sister, Mrs. Clara Colebank of Woodpecker, B.C., Canada and two brothers, Elmer N. Walker of Melbeta, Nebraska and Carrol Walker of Lincoln, Nebraska.
Mrs. Fletcher united with the Methodist Episcopal Church at Farnam in 1907 and has since been a devoted Christian.
Mrs. Fletcher made her home at Farnam for many years until about four years ago, she moved to Bayard, Nebraska, where she has made her home with her daughter, Mrs. Alpha Brinkman and son, Wayne Fletcher.
Short services were held at the home of her son at Bayard on April 13 by Rev. Spear. The remains were shipped to Farnam where funeral services were held from the M.E. church conducted by Rev. Satchel.
She was laid to rest in the Farnam cemetery.
Private collection of a family member.
---
---
Published: 9/20/2020 - http://www.historicfarnam.us/cemetery/obits/index.asp
Hosted and Published by Weldon Hoppe